Apotex Business Solutions

As a trusted Canadian-owned pharmaceutical company, pharmacists have come to rely on the tools and resources we provide to support them in their practice. We provide pharmacists with both Business Resources and Practice Resources, which together create important building blocks for a successful pharmacy practice.
Apotex's Business and Practice Resources include: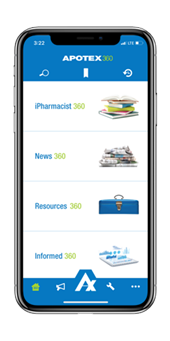 The Apotex 360 Platform
Apotex 360 is modern platform that is easy to use and serves as your complete digital source for Apotex value-added programs, services, resources and information. You can download the Apotex 360 app from the Apple Store, Android Play, or login to the Web version at www.apotex360.ca. The Apotex 360 platform provides pharmacists with a breadth of information including:
The iPharmacist 360® program, which is a quick, one-source solution for searching and finding answers to medication, health and clinical related questions or issues. The iPharmacist 360® references have been developed using Lexicomp™ content. Lexicomp is an industry-leading provider of drug information and clinical content for the healthcare industry. Speak to your Apotex Sales Representative for more information on accessing an annual subscription to the iPharmacist 360® program.
Resources 360, which provides both business resources such as print-ready marketing pieces to promote services you offer, and quick how-to's on boosting sales, as well as practice resources such as patient education pamphlets and videos.
News 360 is a daily news feed, which provide updates on national and provincial pharmacy news
Apotex Products includes a full listing of all Apotex products and strengths
The Apotex Concierge Service
As the business and practice of pharmacy continue to evolve, Apotex can provide ongoing support for you and your pharmacy, helping you build your business and your practice. The Apotex Concierge Team can help you gain access to a comprehensive network of leading industry vendors and suppliers, whether you are looking to source healthcare supplies, doing pharmacy renovations, looking for marketing strategy, etc., we can help you get in touch with the vendors and suppliers you are looking for. Whatever the need, let the Apotex Concierge Team find the vendor or supplier you need, so you can focus on your practice.
Patient Resources
At Apotex, our main focus is the Patient with the purpose of providing them with affordable, innovative and high-quality medicines and solutions. We understand that the patient is also the focus of a pharmacist, which is why we provide patient resources that pharmacists can use to augment their patient counselling and education opportunities.
Patient education in the form of counselling sheets and short videos can quickly and easily be found in the Resources 360 section of the Apotex 360 platform. These counselling sheets and videos provide helpful videos and counselling sheets with step-by-step instructions on how to use different medication dosage forms.
To get copies of the Personal Medication Records, contact your Apotex Sales Representative.