For Media Inquiries, Please Contact:
Public Relations
Apotex Latin America
Email
Apotex LATAM
Damas #120
Col. San José Insurgentes
Benito Juárez, CP 03900, CDMX
(+52) 55 5482 9000

Press Center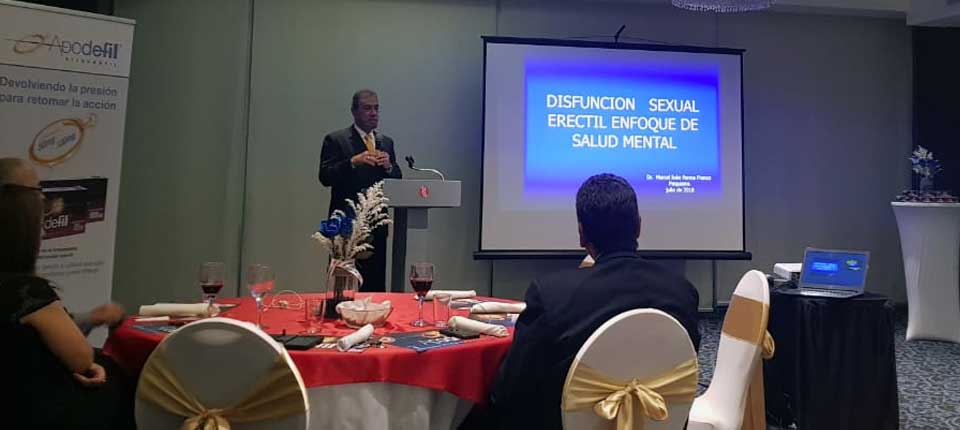 July 10, 2018
Apodefil® launching in Panama
In spite of a rainy and chaotic traffic scenario, we have great news: last July, in the City of Panama, we celebrated the launching of Apodefil® in the company of the psychiatric community, doctors of various specialties, residents from public hospitals and private clinics, as well as distributing partners.
The event took place at the Hotel Ramada, where we had two leading opinion speakers, Dr. Marcel Penna Franco, a specialist in Psychiatry, and Dr. Edgar A. Figueróa Rodríguez, a specialist in Urology, who taught the seminar, "Sildenafil in clinical practice."
The evening began with a brief account on the treatment of erectile dysfunction during the years previous to the launching of Sildenafil given by Dr. Marcel Penna. At the time, it was considered to be a disease caused mainly by emotional factors and was, therefore, treated with a psychiatric approach. The molecule provoked a revolution that was, partially, the result of the disclosure of new information about the disease. It was initially developed as a treatment for pulmonary hypertension but, it was found to have effects on erection, which prompted a paradigm shift in research allowing to understand that erectile dysfunction might have a pathophysiological rather than emotional origin.
It is at this time that the disease goes from being exclusively treated in the psychiatric field to the specialty of Urology. However, Dr. Penna concludes that while sexual intercourse requires an optimal erection, it is also influenced by a whole human sphere including the patients' emotional state. Therefore, he believes that psychiatry still plays an important role in this matter.
The second presentation was given by Dr. Edgar Figueróa who highlighted the mechanism of action of Sildenafil from its availability in the market. The medical community is well aware of the relevance of this topic. In his speech, he emphasized the new directions for the molecule's use and the evolution that its approach has had. He mentioned that it was initially authorized for middle-aged patients, but in practice, it has been used for younger patients. Even if most of these patients do not suffer from erectile dysfunction, the molecule helps their sexual life by shortening the refractory period, known as the recovery period to be able to have a second erection.
At Apotex®, we maintain our commitment to provide patients and doctors with Canadian quality pharmaceutical alternatives that are affordable for the Panamanian population guaranteeing such alternatives have the same safety and efficiency that the originally developed product has.