Press Center
Jul 28, 2017
Apotex Increases Investment in India with Expanded Global Business Services Operation
Apotex Global Business Services expected to create more than 200 high-caliber jobs
Mumbai / Bangalore – Apotex Research Pvt Ltd, an Indian subsidiary of global pharmaceutical company Apotex Inc., headquartered in Toronto Canada, announced today a significant investment which will further expand its footprint in India.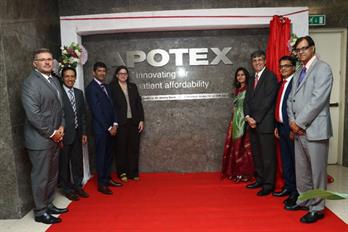 The new Global Business Services office in Mumbai will provide centralized service delivery for various areas including Medical, Regulatory, Quality, Manufacturing, Administrative and Commercial functions for Apotex globally. The new office, located in Godrej & Boyce Business District, Vikhroli, is more than 42,000 square feet and has been designed to maximize collaboration and employee engagement.
Apotex Research Private Limited (ARPL) and its sister company, Apotex Pharmachem Inc. Private Limited (APIPL) were established in Bangalore in 2004. Over the past thirteen years the two companies have grown from strength to strength and has evolved into one of Apotex's global strategic R&D and manufacturing centres with over 2,500 employees. Operations include API & Formulation R&D, Clinical Research, API and Finished Dose Manufacturing. The state-of the art campus in Bangalore supplies products to global markets including the US, Canada, EU and Australia.
Dr. Rav Kumar, Managing Director, Apotex Research Pvt Ltd. said, "Mumbai is the commercial hub of India with a strong pharmaceutical presence including key talent, so it is good strategic location for continued growth of Apotex's business in India. The Global Business Services operation will make a significant contribution to Apotex's future business growth."
Dr. Jeremy B. Desai, CEO & President, Apotex Inc. said, "India continues to be one of our global strategic centres and I am thrilled to announce this further investment. The Global Business Services function will be a key contributor to our business and will support our purpose of improving access to medicines for millions of patients by providing affordable, innovative and high-quality solutions."
Yoganjaneya Reddy, VP & Site Head, Apotex Pharmachem India Pvt Ltd. said, "We have seen a promising growth path in India and the Global Business Services operations strengthens this path. I look forward to a steady incline supported by highly capable talent and our core values in a quality conscious environment."
###
Ms. Sreeja Sreedharan
Manager - Corporate Communications, Apotex India
Email: ssreeja@apotex.co.in
Phone: +91 973832412