Women in Leadership: Building an Inclusive Culture
At Apotex, we believe that creating a culture of belonging in which we value our employee's unique backgrounds, career histories, perspectives and ideas creates an inspiring employee experience and positive business outcomes.
The Women in Leadership (WIL) initiative at Apotex was launched to strengthen our employee experience by providing a platform to create greater visibility for our female colleagues and to facilitate additional collaboration to help them broaden their network, grow and develop.
"One of our strengths as an organization comes from understanding and embracing our

differences," said Joanne Campbell, SVP, Chief Human Resources Officer, founding member of WIL. "There's power that comes from inclusion and harnessing unique perspectives and experiences. It brings fresh thinking, offers new approaches and ultimately provides growth opportunities for our employees and Apotex. Over the years, I've seen many of our female employees be inspired and empowered, and we take great pride in encouraging and celebrating their development and talent."
WIL has seen its own growth within our organization over the years. While founded in the GTA in 2017, since this time, WIL has expanded globally. Apotex US, Mexico, and India each have their own WIL branch.
WIL teams have launched many initiatives across Apotex global sites, encouraging awareness and conversation. These initiatives include speaker series and panel discussions featuring prominent women who share their personal experiences and learnings. Other initiatives include book clubs, mentoring opportunities, social hours and chat groups. WIL teams have launched internal campaigns on women's issues, such as breast cancer awareness, while others organized activities supporting women's charities. These initiatives collectively encourage WIL members to find their voices to express their thoughts, opinions and ideas. They also help build confidence and encourage transparency while creating strong and supportive social bonds.
Women in Leadership at Apotex is an opportunity for us to recognize every employee's true merit, fostering an environment where we all feel connected, respected, and valued.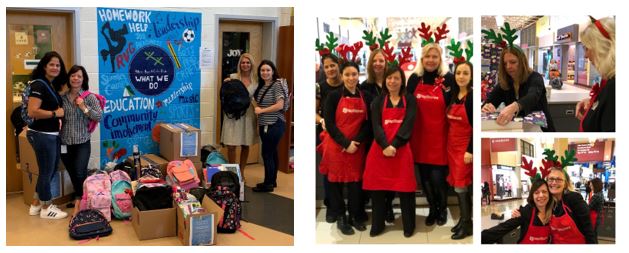 WIL team members active in the community: donating school supplies and food and helping to wrap holiday gifts in support of local women's charities.