How Apotex's Community Support Changed a Life
When Swati Soni's husband Niloy was offered a position to work in the US, making the move from India to Iowa seemed like a wonderful opportunity for the young couple.
While Niloy was able to work thanks to a visa he obtained through his employer, Swati, whose background is in computer science, was unable to carry on with her career as she didn't get a US work visa through the country's lottery system.
Swati put her career on hold and spent her days as a homemaker. After two years in this role, she was anxious to re-enter the workforce but the process to receive a Green Card enabling her to work in the US, was still ongoing. So, the couple decided to apply for permanent residency in Canada which they were granted.
"My husband wanted to complete his work project so we made the decision for me to come to Canada first to see if I could get settled with the intention of Niloy joining me after his work project was completed," said Swati.
Swati had never been to Canada, knew no one, had no job, but bravely came to Toronto in the hopes of starting a new life. "Very soon I realized that Canada is cold, but Canadians are very warm-hearted people," said Swati," so I was hopeful things would work out."
Starting off in an Airbnb accommodation, Swati immediately started looking for work. She used LinkedIn extensively applying for jobs and connecting with as many people as she could. While full-time work in her field was proving to be a challenge to find, Swati did find a part-time customer service job which helped her to make ends meet.
Through LinkedIn, Swati discovered a United Way sponsored agency called ACCES which offered a free program called Women in Technology. The program focuses on helping female newcomers to Canada find meaningful work in the technology field. "We learned about Canadian culture, how to prepare a resume and cover letter suited to Canadian employers," said Swati, "and we even participated in mock interviews to help prepare us for the real thing."
It was through ACCES that Swati was introduced to Apotex. As part of our 2019 United Way campaign, Apotex organized a mentoring event in partnership with ACCES. About 20 female newcomers to Canada visited Apotex in early November for a half-day mentoring program with several Apotex people leaders who offered advice and tips for finding full-time employment.
"I was honored to host this great event," said Aida Tahiri, Global Director, Finance & Business Analytics. "It was heartwarming to see the mentors, especially our male leaders, graciously and wholeheartedly participate and support this great Women in Leadership initiative. Twenty-five years ago, I was a newcomer to Canada and those who mentored and encouraged me had the biggest impact in shaping my path in my new country. With this event, I felt I was paying it forward those who supported me when I needed it most. Seeing the great results of this event is one of my many proud moments at Apotex."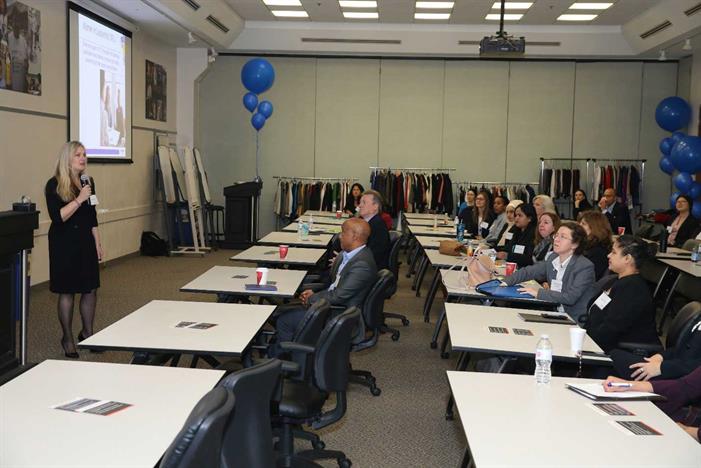 Aida Tahiri hosted the Apotex mentoring event which had many of our people leaders participate by offering advice and guidance to newcomers on how to find a job in Canada.
"The Apotex mentoring event was so helpful," said Swati. "Being able to connect with leaders and hear their advice was so inspiring." It was through this event that Swati eventually landed the job she now holds at Apotex as Specialist, Master Data Maintenance. Alma Arzate, Global Director, Supply Planning was one of the people leaders who participated - and who happened to be hiring on her team.
"We have to admire the passion and courage of these women" said Alma, "as they left their family, friends and culture behind and are trying to re-establish themselves personally and professionally in Canada." Connecting with several of the attendees through LinkedIn, Alma invited them to submit their resumes and helped to facilitate interviews with the hiring team.
In the end, it was Swati who got the job. "I was thrilled and proud," said Swati. "Getting my job at Apotex was life-changing. My husband and I now know we have a future in Canada." Swati recently moved into an apartment and looks forward to her husband joining her soon. Her next goal is to learn to drive and get her own vehicle.
"I am very proud to work for a company like Apotex," said Swati, "that gave time and resources to the mentoring event that enabled me to start a new life."