How Apotex Supports Career Development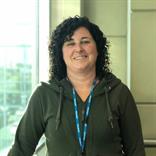 Often, when we think of development, we only consider one direction – vertical. But when it comes to your career path, "up" isn't the only direction.

At Apotex, development planning is an essential, year-round process that allows our employees to develop and enhance critical skills to help them achieve their career goals.

We pride ourselves on promoting a dynamic work environment where all employees can learn and grow in a culture that supports enterprise-wide collaboration, ownership and accountability.

To showcase the many ways an employee at Apotex can develop in their career, we spoke with Sarah Docker about her recent role change from Vice President, Global Quality Manufacturing Sites to Global Director, Demand Planning & Integrated Business Planning.
How did you decide to make this career change?
In this case, it was opportunity because the role was available and it was a role I found interesting since I started at Apotex two years ago. I have always been interested in the commercial side of our business and in the pharmaceutical industry, in general. Once I heard this role was open, I approached Steve Liberty, EVP, Global Supply & Technical Operations and asked if he thought I would be a good fit for the role.
Throughout your career, you have made lateral moves. Why do these appeal to you?
The reason it appeals to me and the reason I have done it many times in my career is because I enjoy learning. And the best way to learn is to dive right in and understand something from the ground level.
If I'm looking to join a new team or function, one where I have less experience, I know I should set realistic expectations for myself. That might mean I should step back from my current role so that I can learn and grow.
Would you encourage others to make similar changes, even if it means stepping aside and making a lateral move?
The advice I would give people is that a pyramid is always more stable than a ladder. You really need to have a broad base in your career in order to really understand and appreciate everything that happens around you. If you go too far, too quickly, the stability isn't there so you need to make sure that base is solid. This way, if you need to go sideways or backwards, you've got somewhere to go and the fall isn't so big.
What Apotex values did you call on when making this decision?
Definitely, first and foremost it was courage. I have a great support network with friends and family but when I first told them about my decision to take a step down, they thought I was crazy. Now they are fully aligned that this is the right move for me.
Also, passion. Passion – in terms of really knowing and embracing our whole organization and not just any one facet of it.
For current job opportunities check out our Careers Page and follow our LinkedIn and Twitter for Apotex updates.