Why Apotex's Women in Leadership Initiative Encourages Inclusivity
Since its inception in 2017, the Women in Leadership (WIL) team at Apotex has taken great strides to empower and inspire women at all levels of the organization by providing support in shaping their career journey.
Apotex's Commitment
With Women in Leadership teams in Canada, Latin America, the United States and India, our vision is to provide current and future Apotex female leaders with new insights, useful resources and a peer-to-peer network through candid discussion and knowledge sharing.
We strive to create a platform which enables and empowers employees to share career-defining moments, celebrate successes and navigate the daily challenges of balancing their personal and professional lives.
Our Women in Leadership team develops an inclusive and engaging environment by providing meaningful experiences in which all employees at Apotex support gender equality for their female peers.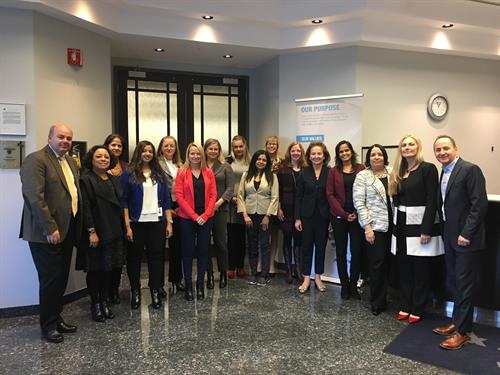 The Women in Leadership Team in 2017
Examples of previous events and activities the team has hosted include:
Organizing a Back to School Supply Drive with the United Way Greater Toronto in support of a local Women's Shelter and Boys and Girls Club
Moderating a discussion with guest Krystyna Hoeg, focused on common challenges and barriers for women seeking leadership roles, balancing personal life and work demands
Mentoring those who work at Apotex and those who live and work in the community
Convening an all-male panel discussion about advancing women in the workplace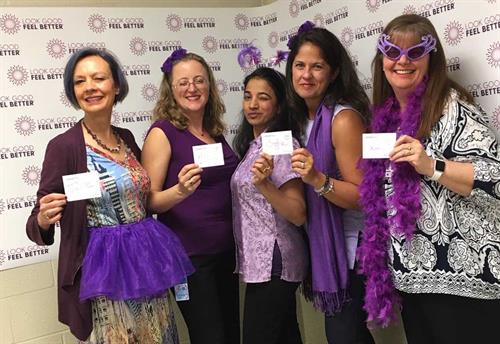 Employees participating in the Women in Leadership led initiative, Wink Day in support of Look Good Feel Better Canada, a charitable organization helping women with cancer feel like themselves again.
A diverse and inclusive team create long-term, sustainable solutions
When executive sponsor and CHRO, Joanne Campbell decided to launch the Women in Leadership Initiative in Canada, she felt it was not only important but necessary to include all employees, regardless of gender on the Women in Leadership Core Team as well as in the conversation and planning processes.
"Our goal is to educate and set up women for success in the workplace, so we want to ensure we provide them with useful, relevant resources that can be applied to their real life," says Joanne. "Women have to navigate through a workplace that includes men on a day-to-day basis. By including everyone in our discussions, all employees benefit as we can learn and grow from each other."
Joanne adds, "Exclusion only fosters disconnect and misunderstanding. By working together, we create long-term sustainable solutions as we are all working toward a common goal – gender parity."
In an effort to ensure we provide our employees with meaningful resources, we asked women at Apotex who they would like to hear from in future panel discussions. They answered – men.
More than 200 Apotex employees attended our all-male panel to discuss how men play a role in developing and championing women into leadership roles. This event provided our employees the opportunity to ask questions and interact with scholars, career coaches and experts to gain insight and aid in their career development.
Panel moderator and co-creator of the Women in Leadership initiative at Apotex, Jordan Berman, VP, Global Corporate Communications shares, "Throughout my personal and professional life, I have been positively influenced and impacted by women. If we are going to change mindsets around the valuable contributions women make in the workplace, we need men to be part of the conversation and solution. Every opportunity we have to further educate men about the challenges women face, I believe the greater chance we have to enlist more men as champions of their female colleagues."
The sentiment was repeated by the panel – Stephen Friedman, Avo Oudabachian and Apotex EVP, Peter Hardwick – as they recognize and value the impact women have made and still make on their personal and professional lives and want to encourage others in their efforts to support gender parity in the workplace.
The Women in Leadership, all-male panel discussion in 2019
"Every person brings a unique lens to the conversation which can aid in holding each other accountable for achieving our goal of equality," says Joanne. "We've taken great strides and for our initiative to continue to gain momentum, it's important that everyone is involved in conversation."
We will continue to work together to create a supportive environment where everybody feels included in conversation. Collectively, we can make an impact.
For more information about our Women in Leadership Initiative, join our conversation on LinkedIn and Twitter.