Category:
Our People
Published: September 24, 2018
Meet our Apotex Fire Brigade
The Apotex Toluca Fire Brigade truly lives the Apotex values of courage, collaboration, passion and perseverance, volunteering to keep Apotex, its employees and the local community safe.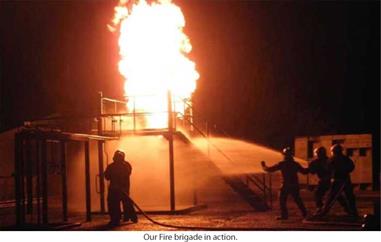 Did you ever dream of being a firefighter or first responder as a kid? In Mexico, some of our courageous employees get to take on this role in addition to their day jobs. In Mexico, it is mandated by the government that factories have their own on-site industrial fire brigade comprised of company employees. With two main sites in Mexico, we're proud to have a group of specially-trained Apotex employees who are ready to act should an emergency arise.

These brigades, skilled in firefighting, first aid, rescue, hazardous materials, and evacuation are the first on the scene if a fire breaks out at their factory. Following initial training at the Emergency Brigades Training School, members undergo weekly training and must, by law, participate in two annual drills. The purpose of these drills is to demonstrate to local authorities that the brigade is well-prepared to respond in a real emergency.
Often, an emergency situation requires all hands on deck. This is why it's required that factories form a local collective with neighboring businesses to support one another in emergencies. In fact, in April 2017, when a factory neighbouring our Toluca site had a fire break out, the first responders on scene were the members of the Apotex fire brigade who put their extensive training into action.
Each year since 2013, our Apotex Fire Brigades compete in a national competition, showcasing and testing their skills. The brigades worked extremely hard to prepare, requiring additional practices on weekends, and before/after work shifts. All the hard work and dedication paid off and at this year's competition, the Apotex Toluca team won several awards, including second place overall, and first place in the individual men's performance. Apotex Signa placed first in their competition, facing off against a professional squad!
There are many ways to display our Apotex value of courage, but we think that this brave group exemplifies it most literally as they help safeguard Apotex and local communities.