How is technology driving patient care at Ontario's busiest emergency room?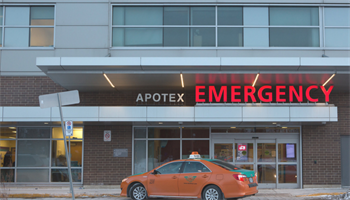 At any given moment, Humber River Hospital's (HRH) Apotex Emergency Department (ED) is filled with a flurry of activity: a mother comforting her feverish child, one friend supporting another with an injured ankle, or an ambulance pulling up with a patient in a cycling accident. Just minutes away from Apotex Head Offices, the emergency department at HRH bears our name as recognition of our significant support and years of partnership. The Apotex Emergency Department treats upwards of 400 patients from our local community each day, making it the busiest emergency department in Ontario.
Even as the number of visitors to HRH's Apotex Emergency Department climbs each year, a busy ED does not have to be synonymous with slow. In fact, the average time for a patient arriving by ambulance to receive care at HRH is just 22 minutes! With less time spent waiting, it's no wonder that Humber's ED patient experience ratings are above the National Research Council (NRC) average. At HRH, patient care is not sacrificed in pursuit of efficiency. Trips are rarely made to the ED under pleasant circumstances, but when it's time to pay a visit, it's comforting to know about the excellent care and state-of-the-art facilities at HRH's Apotex Emergency Department.
How does HRH's Apotex Emergency Department continue to provide the very best in patient care? For one thing, the ED is considered the "most digital" in Canada, incorporating integrated technology for each step along the patient's care journey from check-in to discharge. The ED's integrated system is supported by the heart of the hospital - its Command Centre. Only the second in North America in a hospital, the Command Centre enables staff to manage the flow of patients at every stage of their visit. Overall, this technology-driven approach results in more accurate communication and decision-making.
Of course, technology is just one factor in ensuring an excellent patient experience at HRH's Apotex Emergency Department; it's the staff that truly make a difference. Digitized processes and systems simply allow doctors, nurses and healthcare professionals to spend more time interacting with patients to deliver quality care.
At Apotex, we couldn't be prouder to have partnered with Humber River Hospital with a donation of $10 million to make their Emergency Department a reality. Our ongoing collaboration with healthcare partners like the ones at HRH, help us to fulfill our purpose of improving access to medicines for millions of patients worldwide.