APOblog
Q&A With Gladys Amirthanathan
Meet Gladys Amirthanathan, Production Manager in the Tableting Department at our Etobicoke, Ontario site. Through coaching, feedback and recognition, she supports her team as they drive the manufacturing and production of tablets for millions of patients worldwide.
We asked Gladys about her experiences at the company and what she looks for in potential candidates.
Describe your journey with the Apotex team.
In 2011, I was a Production Technician in Fluid Operations. After that, I became a project leader in the Lean Department, then I worked as Production Supervisor in the Compounding department and now I'm a Production Manager.
I've consistently grown throughout my journey with Apotex. With every new role, I gain a new perspective and insights into the organization as I'm exposed to the intricacies involved in our manufacturing processes.
You've experienced several transitions at Apotex. What would you tell a new employee who is also looking for growth on the Production team?
There is always opportunity for growth and continuous improvement. Be proactive and look for opportunities that will not only allow for self-improvement but also the betterment of the organization – that's what I did when I was a technician. I recognized areas for improvement, provided feedback and suggested solutions on how to improve productivity.
The success of a company and an employee are dependent on each other. If you are looking for growth, you must be willing to put in the work and go above and beyond in your role.
What influenced you to stay part of the Apotex team for 9 years?
There are two factors: the people and my love of science. First and foremost, the people I work with are special. Everyone is supportive and there is a joint effort to achieve our purpose: delivering affordable, innovative, high-quality solutions to patients worldwide.
I also have a passion for science, more specifically, what the production of drugs can do for patients – especially when the medicines are accessible at an affordable price.
Was there a moment in your life that sparked your passion for the generic pharmaceutical industry?
When I was studying Life Sciences at McMaster University, I worked for a pharmacy. One day, a customer asked the pharmacist, "What is the difference between a brand and a generic medicine?" The pharmacist responded by comparing designer and non-designer handbags. "One has a household name and the other does not," she said. "However, they both serve the same purpose and one is more affordable."
This sparked my interest in generic medications which ultimately led me to complete a Post-Graduate degree from the Toronto Institute of Pharmaceutical Technology.
I firmly believe that medication should be available at an affordable price for everyone regardless of their financial situation. I love working for Apotex because we share the same values and beliefs.
What is something about the Production team that people don't usually know but that you want them to know?
Our production workers are the ones who produce medicines. It is very hard work – it includes physical labour and long hours. They are similar to construction workers – they complete the plans laid out for them by the research and development "architects". While they don't design the plan themselves, they put all the pieces of the finished product together.
There wouldn't be a product without production workers.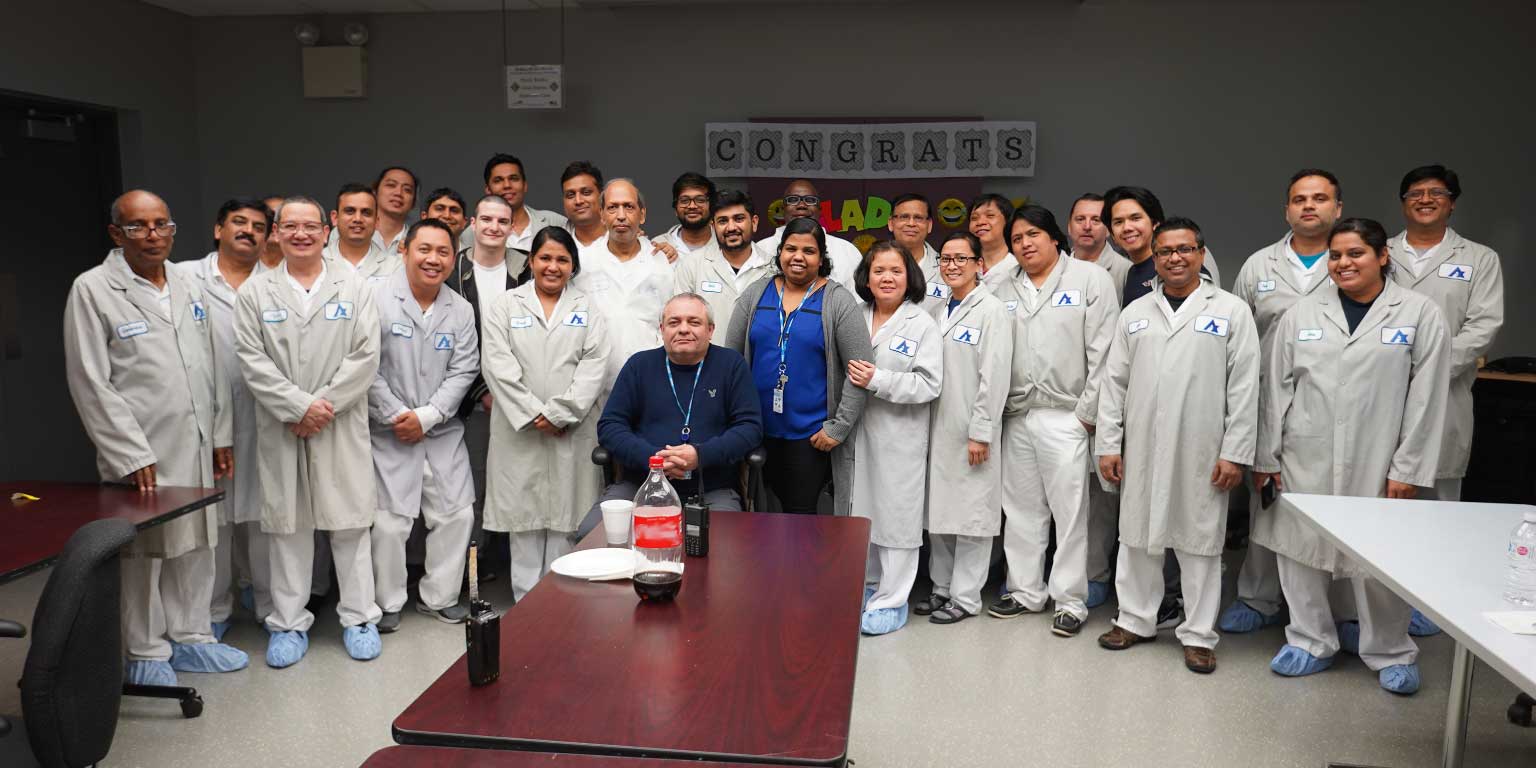 As a leader, what qualities do you look for in team members or potential candidates?
I look for someone with integrity and is a team player. At Apotex, our teams work collaboratively and cross-functionally which means we need to work closely to ensure we produce high-quality, safe and effective products.
As a woman in science, what would you tell girls or women who are looking to start a career in production?
I want women and young girls to know that we can break barriers by not allowing our fears to take control of our capabilities.
Women and young girls need to believe in themselves. Confidence and success come from within. Our fullest potential is unlocked when we stop making excuses, put in hard work, know our worth and strive for greatness.
Apotex truly values gender inclusivity and equality in the workplace. I am honoured to be working for a company that shows women and young girls that there are no barriers when it comes to success.
Are you looking to join a passionate, innovative team? Explore our open positions.
To learn more about roles available at Apotex follow us on LinkedIn and Twitter.