APOblog
The Idea That Launched So Many Others
The first-ever Apotex Best Idea Challenge was introduced in 2019, to provide a platform for employees' ideas to be heard.
What was the idea behind launching the Challenge? Quite simply that all ideas, big or small, have the potential to create, inspire, improve and transform. So, we decided to capture the ideas and potentially implement them to build an even better Apotex.
More than 50 ideas were received from cross-functional employee teams around our Apotex global sites. It was impressive to see the teams identify opportunities for improvement in their day-to-day work, and through collaboration and innovative thinking, develop ideas that provided new approaches to doing business.
With thorough review and consideration given to each idea submitted, a cross-functional judging panel whittled the ideas down to six finalists.
The next step? The finalists "pitched" their ideas to the panel of judges so that three winning teams could be selected. A fantastic display of teamwork, passion and creativity was demonstrated throughout the pitches as teams shared details of their ideas and the improvements they could potentially deliver.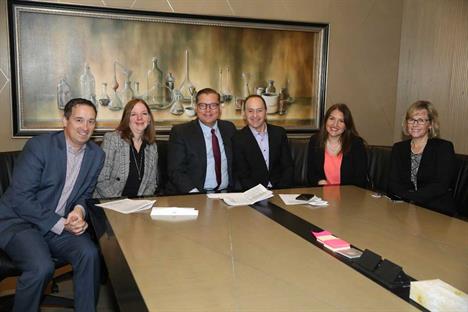 The 2019 Best Idea Challenge judges
(l to r): Ryan Kelly, Director, National RF & SFE, Joanne Campbell, SVP, Chief Human Resources Officer, Ulrich Deutschmann, SVP, Global Business Transformation & Strategic Plan, Jordan Berman, VP, Global Corporate Communications, Elizabeth Bagshaw, Global Director, External Manufacturing Quality, Laurel Nelson, VP, Global Quality Manufacturing Sites (missing from photo: Tom Mitten, VP, Product Supply-Signet)
"I was so moved by the level of engagement by our employees," said Jordan Berman, Vice-President, Global Corporate Communications, and a member of the seven-judge panel. "All teams showed incredible passion, creativity and pride with their ideas to make our company even stronger."
The ideas were judged on six key criteria:
key performance indicators
benefits, cost and timing
ease of implementation
breaking down silos
employee engagement
building capabilities
Collectively, the criteria highlight how the ideas could streamline and drive efficiencies, but also enhance collaboration, foster engagement and optimize our people and resources.