APOblog
How Apotex Gives Back To The Community
The International Day of Charity, celebrated annually on September 5, serves to bring global awareness to social responsibility. At Apotex, we strive to demonstrate our commitment to social responsibility every day – read how.
Apotex was founded on the principle of Innovating for Patient Affordability. By the very nature of our work, we help patients around the world live healthier lives by improving access to affordable, innovative and high-quality medicines – after all it's our purpose.
This purpose, along with our corporate values – Collaboration, Courage, Perseverance, Passion – are also what guide our social responsibility efforts, as we seek opportunities that align with these enabling us to give back to the communities in which we work and live.
Our facilities around the world provide support to local communities, social institutions and non-profit organizations that align with our vision of improving the health and well-being of people and their communities.
Here's a glimpse of our efforts over the years.
In Canada, for instance, we provided support to a local hospital which helped to build the Apotex Emergency Department, which today treats over 100,000 patients each year.
Across North America, we have provided millions of dollars of funding to colleges and universities – from scholarships to new equipment for facilities – to help develop generations of students to come.
For communities around the globe dealing with poverty or the aftermath of natural disasters, we are proud to donate essential medicines to help those in need.
Additionally, our employees demonstrate their passion to engage in various volunteer opportunities by being active in community projects.
Whether it's packing boxes with donated medicines to be delivered around the globe, collecting back-to-school items to donate to families in need, planting trees to help restore a local tree canopy, organizing holiday toy drives, or mentoring young people and newcomers to help them find work, our employees are shining examples of what it means to give back.
In India, our teams organize an annual blood drive in recognition of World Blood Donor Day.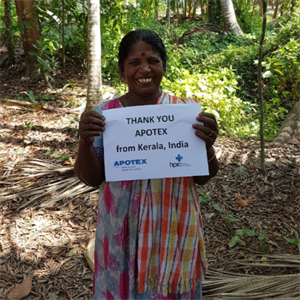 Our teams in the United States participated in the Push-up Challenge organized by Cooley's Anemia Foundation, a US-based patient association, to raise funds and awareness for thalassemia research and education programs.
In Mexico, courageous Apotex employees volunteer to join the local Fire Brigade and are trained to fight fires in their business community.
For over two decades, our Canadian employees have demonstrated their commitment to help through Apotex's annual United Way campaign which invites employees to donate to the cause through a payroll deduction program.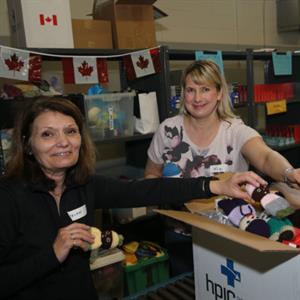 At Apotex, we support the International Day of Charity and encourage our employees to be charitable, no matter how big or small the gesture. We believe that collectively, the impact can be tremendous.
For the latest updates on our Corporate Social Responsibility efforts follow @Apotex on Twitter.