Apotex Pharmachem India Pvt Ltd (APIPL)
Established in 2004 situated in Bangalore in the Bommasandra Industrial Area, in a total area of about 5.3 acres (21448 sq. m.) with a total built up area of about 22870 sq.m.
APIPL operates a fully CGMP compliant manufacturing facility specializing in R&D, scale-up and manufacture of API, having two multi-purpose manufacturing plants and three kilo labs.
Production block has a reactor capacity ranging from 25L to 3000L.
Kilo lab 2 & 3 are used for manufacturing of small volume products. Kilo lab 1 is dedicated and contained facility for HPAPI Class III products.
A total of 65 products are being manufactured at APIPL.
APIPL supplies more than 50 APIs to Apotex group.
Production Capabilities
Multi-purpose manufacturing plants covering 5108 sq. meters
Production Block (1 & 2)
Kilo lab (1 (SP plant), 2 & 3)
Equipped with:

Reactors: SS316, Glass lined, Hastelloy, Hydrogenator (Capacity 25 L to 3000 L)
Centrifuge, Robo filters, Sparkler filters, Nutsche Filter
Dryers: Rotocone Vacuum Dryer, Vacuum Tray Dryer, Fluid Bed Dryer, Spray drier, Rotary Evaporator, Freeze drier
Multimill, Micropulveriser, Jet Mill
Analytical capabilities like NMR, LCMS, GCMS, ICPMS, DSC, PXRD, Particle size analyser, HPLC, GC, UV, IR, NIR, AT
APIPL Manufacturing Plant :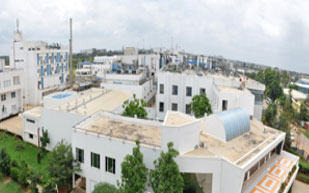 Brief Description :
API manufacturing facilities designed for flexibility and a wide variety of chemistries
Current state of Operations :
Installed capacity 31,000 kL
Currently running at 35% capacity utilization
Capabilities :
Reactors: 25L to 3000L capacity, Centrifuge, Hydrogenator
Dryers: Rotocone Vacuum, Vacuum Tray, Fluid Bed, Spray Dry, Rotary Evaporator
Multi Mill, Jet Mill, Micropulveriser