For Media Inquiries, Please Contact:
Jordan Berman
Vice President,
Global Corporate Communications
Apotex Inc.
150 Signet Drive,
North York,
ON, M9L 1T9
Canada
416-401-7487
Email
Press Center
Apr 28, 2017
University of Saskatchewan, Apotex renew partnership with $1.6M donation to the College of Pharmacy and Nutrition


The University of Saskatchewan and Apotex Inc. have renewed their partnership with a $1.6 million donation by the company to the College of Pharmacy and Nutrition. The gift, which is the largest donation in the college's history, will be received over eight years and support college initiatives and activities.
"We are very grateful for this is new investment, and to President Desai and his colleagues for their continued support and belief in the research and community practice initiatives within the college," stated Dean and Professor Kishor Wasan. "This funding is a game changer for us and will help the college continue to be one of the best programs in the country."
"The partnership between academia and industry has never been more important. Funding research and key initiatives that help prepare future pharmacists is all part of building a sustainable health care system," said Dr. Jeremy B. Desai, CEO and President, Apotex Inc. "We are pleased to renew our partnership with the University of Saskatchewan and continue our support of pharmacy practice in Canada."
The partnership between the college and Apotex extends back to the relationship built between former Dean Dennis Gorecki and former Apotex President Jack Kay. Wasan continued, "The college would like to acknowledge former Dean Gorecki and Jack Kay for their assistance and support for this latest Apotex gift."
"The college has enjoyed an exceptional partnership with Apotex over the last few decades," said Gorecki when asked about the history. "Much of this is directly attributable to the commitment and generosity of Jack Kay. Jack, who has family roots is Saskatchewan, undertook part of his education in the province, and has been very supportive of pharmacy and the college. "
During his time as dean, support from Apotex helped Gorecki establish important initiatives in the college. "I am most grateful to Jack and Apotex for their gifts. Their generous donations allowed us to do things we would not normally be able to, and I sincerely thank Jack for making much of it happen."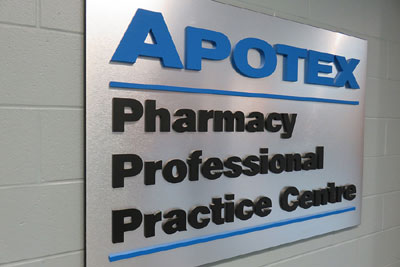 The Apotex Pharmacy Professional Practice Centre is located in the Health Sciences Building.
The most notable of these initiatives is the Apotex Pharmacy Professional Practice Centre, where students work in real-life pharmacy settings to learn to counsel patients and work as a team. The original practice centre was created in the Thorvaldson Building and was supported by a $1.5 million donation from Apotex in 2008. With the recent relocation of the college to the expanded Health Sciences Building, the practice centre moved to its new home in the E-Wing of the building in 2013.
"Our long-standing partnership with Apotex has created broad benefits for our faculty, our students and the communities in which those students find careers after graduating," said Peter Stoicheff, U of S president. "Apotex has helped create new learning opportunities for our students, and this helps ensure that the next generation of pharmacists exceeds the standards of practice in the profession. The outcomes of Apotex's donation shine a light on why these partnerships can be so important to our professional programs."
###
Jordan Berman
Global Director, Corporate Communications
Apotex Inc.
Direct: 416-401-7487
Mobile: 647-272-2287
Email